Join us every other Wednesday at 2:30pm to 2:45pm for a virtual coffee break.
At the office, coffee breaks tend to be spontaneous.  You walk past a colleague's desk or office to see if they can 'come with'.  When we are working from home or remotely there is no spontaneity so we're making a deliberate effort to connect with colleagues.
JOIN US ON GOOGLE MEET 
For best results, log in using your .net id and use Chrome as your browser
Here'
s the rules: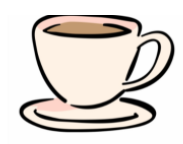 No checking emails or multitasking during this time
Keep it light and fun. This is a positive space
Use video  so we can see each other as we would if we were having face to face coffee breaks
If there is high participation… use chat to avoid speaking over one another
Dates:           Themes:
Oct 6:                 Thankful for Thanksgiving
Oct 20:               Fall Festivities 
Nov 3:                To Read or not to Read
Nov 17:              Show and Tell: Pet Edition
Dec 1:                The Winter Blues
Dec 22:              Happy Holidays!
Jan 5:                 Starting the New Year off right!
Jan 19:              Coffee and Games
Feb 2:                Love is in the Air
Feb 16:              Family Day  
Mar 2:                National Women's History Month
Mar 16:              DIY Hacks
Mar 30:              Show and Tell: Travel Edition
Apr 13:               Mother Nature, Taking Care of the Planet
Apr 27:               Master Chef, Ontario Tech Edition
May 11:             Mother's Day
May 25:             Splashing into Summer