Join us every other Wednesday at 2:30pm to 2:45pm for a virtual coffee break.
At the office, coffee breaks tend to be spontaneous.  You walk past a colleague's desk or office to see if they can 'come with'.  When we are working from home or remotely there is no spontaneity so we're making a deliberate effort to connect with colleagues.
JOIN US ON GOOGLE MEET 
For best results, log in using your .net id and use Chrome as your browser
Here'
s the rules: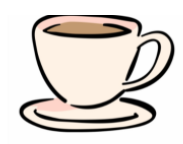 No checking emails or multitasking during this time
Keep it light and fun. This is a positive space
Use video  so we can see each other as we would if we were having face to face coffee breaks
If there is high participation… use chat to avoid speaking over one another
Dates:  

 Themes:

 Description:

October 19
Fall Festivities

As the leaves change color and the weather turns colder, there comes many new activities that take place in the fall season. What is on your Autumn Bucket List?

Join us in sharing our upcoming fall activities, and maybe get some ideas for your next fall adventure!

November 2
Workout Wednesday at your Desk

Everyone needs a little exercise after sitting at a desk for 8 hours a day!

Participants will participate in a 5 minute, Office Yoga Break! Everyone will follow along with a tutorial video that allows you to regenerate your body by releasing tenseness, all from your work desk!

November 16
Travel Show and Tell

Travelling is an important part of many of our lives; let's talk about it!

Chat about your favorite trip, show your favorite souvenir, or chat about where you want to go next!

November 30
Scavenger Hunt!

Who doesn't love a fun lightning scavenger hunt, show and tell!

Participants will have 1 minute and 30 seconds to find a short list of items in their household. Once the timer ends, participants will return back to their desks and pick one item to share a brief sentence or two about why they chose that item in the nick of time!

December 14
Happy Holidays!

While not everyone celebrates Christmas, the Holiday time is often filled with family, hope and joy!

Let's discuss family traditions and how everyone celebrates the holiday season (no matter what it looks like)! Tell us about how you celebrate the Holiday's!

January 11
Start off on the Right Foot

New Year Resolutions can seem silly, but they ahve a major impact on how we start the year! When we are in the right mindset, it can often motivate us to reach the goals that otherwise seem 'impossible'.

Let's discuss some fond memories that took place over the past year and things you learned, and share what you hope is in store for 2023!

January 25
Pet Parade

Who doesn't love pets? Your virtual office companion. Dogs, cats, fish, or even a gerbil; all pets are worth sharing!

Let's share photos of our pets or even give us a live feed of the pet!

February 8
Love is in the Air

Valentine's Day is a day where love is in the air. Even if you do not have a partner, there are still lots of people you can show appreciation for! Your family, friends, even yourself, are all people who deserve love. 

Let's take time to discuss who we love, our plans for Valentines Day, and friendly date ideas!

February 22
Gratitude Round Robins

Gratitude helps foster a culture of appreciation within teams and in the workforce. 

Let's dedicate today to working towards employee community-building!

March 8
Pictionary!

Take it back to game night! 

Participate in a fun game of virtual pictionary!

March 22
Swap Dinner Recipes!

Some of us love cooking, some of us hate it. We know how hard it can be to come up with something new to put on our tables! We know that food plays a massive role in our life and we should take time to appreciate it.

Let's talk about our favourite recipes, our favourite thing to cook for date night, or even our favourite restaurant to go to.

April 5
April Showers Bring May Flowers

With spring almost in full bloom, let's exchange our perfect gardening tips!

What are you planning this year? If anyone is an avid gardener, they can share photos of their gardens in the past.

April 19
Go Green

With Earth Day coming up on April 22, let's collaborate on continuing to keep our Earth green!

Bring your tips for reducing their carbon footprint and adopting eco-friendly habits. 

May 3
Mother's Day

Mother's play such an important role in who we are today. Whether it is your mother, step-mom, or another female figure in your life; mother's day is a time to celebrate everyone who has contributed to your time in some way. 

Let's discuss our favourite stories of our mother figures and how we celebrated Mother's Day, or how our families celebrated YOU if you're a mother. 

May 17
BINGO!

Who doesn't enjoy a fun game of BINGO? For this 15 minute segment, take the time to participate in a game of Remote Work BINGO!

See how many spaces you can fill!

May 25
Summer Sunshine

The sun is shining, the flowers are bloomed, and summer is right around the corner! Many of us are looking forward to the warm weather and potentially vacation time. 

Let's discuss our favourite summer activities and plans for the summer time.