September Start-Up: Wellness Toolkit
September can be a busy time of year, as we return from relaxing Summer days to the start of a new semester.  Changes in our day can feel stressful as we settle into our new routines and your Healthy Workplace Committee wants to support you with the below September Start-Up: Wellness Toolkit.
New for September
Wellness Wednesdays
Campus Coffee Break is now Wellness Wednesdays!  Drop-in to these virtual sessions, to connect with colleagues, pick-up a wellness tip/resource, and be entered into a random draw for a prize.  Prizes will be distributed at every session, so don't miss out!  Visit the Wellness Wednesdays webpage for dates and the Google Meet link to join.

Ergonomics:
Your well-being is important.  Visit the Ergonomics Program webpage to take preventative action, ensuring your workstation is set-up to meet your needs.  Complete the workplace self-assessment tool or review newly added resources: eOfficeERGO Module and Home Ergonomics 101 video.
Reminders:
Mindfulness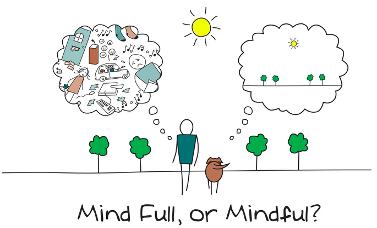 Is your mind full or are you mindful? Incorporate mindful meeting starters into your upcoming huddles, meetings, and presentations or try the self-care practices.

Reminder: Complete the on-demand Applying Mindfulness at Work eModule course by September 30, 2023, and receive a micro-credential (in addition to the completion certificate).
Here's what your colleagues are saying:
"This course helps you take care of yourself in order to be successful, productive, and happy. By doing so, you also can become a support system for others to do the same and encourage them as well."
"The most helpful part of the course was the introduction of new practices and the explanation on how they specifically can enhance focus and presence at work."
 "Great program with a good catalog of Mindful Practices for work."

Employee Assistance Program (EAP)
LifeWorks, Ontario Tech's Employee Family Assistance Program provider, is now a part of TELUS Health and will be referred to as an Employee Assistance Program (EAP).  There is no impact to services or resources and you and your family continue to have the same access.
Confidential services are available 24 hours a day, 7 days a week, by calling 1-844-671-3327.
To learn more about the supports available through life stages, obstacles and transitions, attend the next Employee Orientation on September 21, 1pm (EST) by visiting this registration flyer.
Refer an Ontario Tech Colleague Program:
The first 50 employees to refer* an Ontario Tech Colleague to join TELUS Health One (formerly LifeWorks Essentials) will receive a Wellness at Work reusable tote bag! After you refer* your colleague, please complete this Refer an Ontario Tech Colleague Program Form to enter.
*Refer means encouraging a colleague to join TELUS Health One.  To do so, they would accept their email Invitation.  If your colleague cannot find their e-Invitation to join TELUS Health One, ask them to email wellnessatwork@ontariotechu.ca to have their email Invitation resent.

Mandatory Training
A reminder to complete your Mandatory Employee Training within the first four weeks of hire.  Have questions?  Review our Mandatory Training Tip Sheet for details about modules available in Canvas or email healthandsafetytraining@ontariotechu.ca.


Workshops & Training:
Visit the Events, Initiatives and Training page for full details on training or click the dates below to register:
Save the Date
The annual Health, Safety and Wellness Fair is scheduled for Thursday, October 26, 2023 (11am-1pm) in UA Atrium.  Stop by to visit various vendors and enter draws for great prizes!  Stay tuned for other events happening during October's Healthy Workplace Month!