Campus Coffee Break
Join us every other Wednesday at 2:30pm to 2:45pm for a virtual coffee break.
At the office, coffee breaks tend to be spontaneous.  You walk past a colleague's desk or office to see if they can 'come with'.  When we are working from home or remotely there is no spontaneity so we're making a deliberate effort to connect with colleagues.
For best results, log in using your .net id and use Chrome as your browser
Here'
s the rules: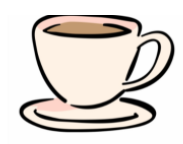 No checking emails or multitasking during this time
Keep it light and fun. This is a positive space
Use video  so we can see each other as we would if we were having face to face coffee breaks
If there is high participation… use chat to avoid speaking over one another
Dates:           Themes:
Nov 25:             Black Friday Prep Day – Share your best tips
Dec 9:               Ugly Winter Sweater Day
Dec 23:             Snowflake Day – bring a piece of paper and scissors
Jan 6:                New Year, New Me?
Jan 20:              Bell Let's Talk: Mental Health
Feb 3:                Winter Fest
Feb 17:              A Blast From the Past
Mar 3:               International Women's Day
Mar 17:             St Patrick's Day
Mar 31:             Where In the World...   
Apr 14:              One Planet: Earth Day
Apr 28:              Music to My Ears!
May 12:             Watch it Grow: Gardening
May 26:             Origami Day- Bring paper & scissors!
Jun 9:                 Pride Month
Jun 23:              Surfing into Summer