Book Club
Blink
In his landmark bestseller The Tipping Point, Malcolm Gladwell redefined how we under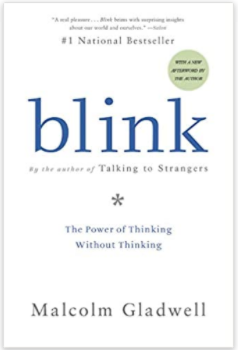 stand the world around us. Now, in Blink, he revolutionizes the way we understand the world within.

Blink is a book about how we think without thinking, about choices that seem to be made in an instant-in the blink of an eye-that actually aren't as simple as they seem. Why are some people brilliant decision makers, while others are consistently inept? Why do some people follow their instincts and win, while others end up stumbling into error? How do our brains really work-in the office, in the classroom, and in the kitchen? And why are the best decisions often those that are impossible to explain to others?

In Blink we meet the psychologist who has learned to predict whether a marriage will last, based on a few minutes of observing a couple; the tennis coach who knows when a player will double-fault before the racket even makes contact with the ball; the antiquities experts who recognize a fake at a glance. Here, too, are great failures of "blink": the election of Warren Harding; "New Coke"; and the shooting of Amadou Diallo by police.

Blink reveals that great decision makers aren't those who process the most information or spend the most time deliberating, but those who have perfected the art of "thin-slicing"-filtering the very few factors that matter from an overwhelming number of variables.
When:               Oct 14       3pm – 4pm
                         Nov 17       3pm – 4pm
                         Dec 7         3pm – 4pm
Location:            Google Meet TBD                         
Why Are All the Black Kids Sitting Together in the Cafeteria
Why Are All the Black Kids Sitting Together in the Cafeteria
 Walk into any racially mixed high school and you will see Black, White, and Latino youth clustered in their own groups. Is this self-segregation a problem to address or a coping strategy? Beverly Daniel Tatum, a renowned authority on the psychology of racism, argues that straight talk about our racial identities is essential if we are serious about enabling communication across racial and ethnic divides. These topics have only become more urgent as the national conversation about race is increasingly acrimonious. This incredible book is essential reading for anyone seeking to understand the dynamics of race in America.
When:               Feb 9               3pm – 4pm
                         Mar 1               3pm – 4pm
                        Mar 24              3pm – 4pm
Location:  Google Meet TBD
The Alice Network

In this enthralling novel from New York Times bestselling author Kate Quinn, two women—a female spy recruited to the real-life Alice Network in France during World War I and an unconventional American socialite searching for her cousin in 1947—are brought together in a mesmerizing story of courage and redemption.
1947. In the chaotic aftermath of World War II, American college girl Charlie St. Clair is pregnant, unmarried, and on the verge of being thrown out of her very proper family. She's also nursing a desperate hope that her beloved cousin Rose, who disappeared in Nazi-occupied France during the war, might still be alive. So when Charlie's parents banish her to Europe to have her "little problem" taken care of, Charlie breaks free and heads to London, determined to find out what happened to the cousin she loves like a sister.

1915. A year into the Great War, Eve Gardiner burns to join the fight against the Germans and unexpectedly gets her chance when she's recruited to work as a spy. Sent into enemy-occupied France, she's trained by the mesmerizing Lili, the "Queen of Spies", who manages a vast network of secret agents right under the enemy's nose.
Thirty years later, haunted by the betrayal that ultimately tore apart the Alice Network, Eve spends her days drunk and secluded in her crumbling London house. Until a young American barges in uttering a name Eve hasn't heard in decades, and launches them both on a mission to find the truth...no matter where it leads.
When:  April 14              3pm – 4pm
             May 13              3pm – 4pm
            June 14              3pm – 4pm
Location:  Google Meet TBD