UOIT Just for the health of it Photo Contest 2014
In support of the university's commitment to a healthy workplace, UOIT's Healthy Workplace Committee held its first inaugural Just for the Health of it Photo Contest this summer to promote physical fitness, activity and fun! The contest ran all summer and yielded more than 30 photo submissions. Employees were asked to submit photos of themselves taking part in any physical activity. Categories included:
Physical fitness @ UOIT
Family and Friends
Individual/reflection
Prizes included UOIT gym wear, gift cards, a Reebok step, family season passes to the Ridgebacks games and personal fitness training sessions. Our winners and runner up honourable mentions are featured below: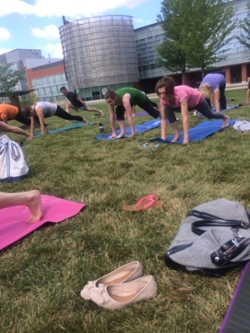 Category: Physical fitness @ UOIT
 Winner: Krista Hester, Senior Executive Assistant, Office of the Provost
This is a picture of me de-stressing and supporting my boss by participating with colleagues during the Yoga with the Provost event at Polonsky Commons on a beautiful summer day. This event was supported and organized by the Healthy Workplace  Committee. It was the second Yoga with the Provost session I participated in this year.
Aside from appeasing my boss, I do enjoy yoga, pilates, swimming, walking and staying active, and I encourage this within my family as a way of life.
This photo was taken by a fellow participant. I was encouraged to enter the photo into the contest but had no hopes of winning - just the satisfaction of participating in and contributing to our campus healthy workplace initiatives. It was a surprise and honour to win in this category, as most of the activities I participate in are off campus.
Category: Family and friends
Winner: Tara Bailey-Taylor, Accessibility Advisor, Student Accessibility Services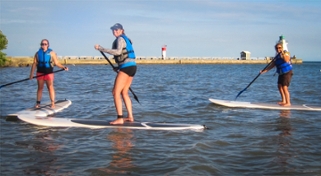 I am pictured (centre) with my thrill-seeking friend Amy (right) and her sister Vanessa (left) at the end of my inaugural paddle boarding voyage during a class at Port Dover Pier on Lake Erie.
We were inspired to take this photo, as it took me the entire class to stand up on the board and look completely confident in what I was doing.
I believe it is important to be active and experience new things. To grow and be healthy you need to stretch your mind, body and soul as well as find work/life balance. Paddle boarding is a great way to get exercise, enjoy the outdoors and literally learn ways to balance!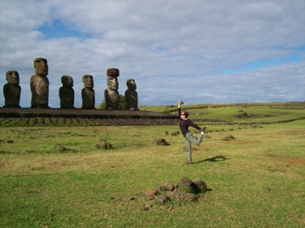 Category: Individual/reflection
Winner: Dr. Wendy Barber, Assistant Professor, Faculty of Education
As a Health and Physical Education teacher, healthy active living is both a personal and professional passion of mine.
I was inspired to take this photo by the Moai statues on Easter Island. This extraordinary remote island in the middle of the Pacific Ocean is home to many sacred spaces, protected and watched over by the ancestors represented by these great stone statues.
Yoga has been part of my own fitness practice and I enjoy it because it connects body, mind and spirit to the energy that is around us and to all living things. Yoga invites mindfulness into our actions, enabling us to become increasingly aware of how we move, breathe and ease into meditative stillness.
At the moment of this photo, I was deeply moved by the beauty around me and the balance between strength and softness, and the feeling of connection to the past and present. Natarajasana (dancer's pose) is a heart-opening pose that appears still, yet is also in motion. It expressed the awe, joy and openness I felt at that moment.
---
Congratulations to our winners for meeting all our photo contest submission requirements!
Many of our submissions deserve honourable mention for being runners-up or just captivating us by their fitness heroism, commitment or creativity.